Our neighbors take great pride in their homes and yards. We enjoy celebrating and encouraging the personal expression of our neighbors by awarding a Yard of the Month!
October 2018 Yard of the Month - We awarded October YOTM to Janetta and Mike Linville of 2821 NW 44th. These neighbors always do a great job with seasonal decor! These photos feature their award winning Halloween look as well as their current Fall/Thanksgiving theme they transitioned to right after Halloween. It's a wonderful mix of fall bounties of pumpkins and chrysanthemums!
September 2018 Yard of the Month - September's Yard of the Month ges to Paige White and Bryan White of 2724 NW 45th St. We love the colorful vinca beds surrounding the majestic trees. and the lovely shrubs lining the walkway. It's a beautiful yard and house!
August 2018 Yard of the Month - We selected Mayfair neighbors Jeff Zielny Landtroop & Rick Landtroop of 5005 N. Miller Avenue as the August Yard of the Month winners! We love the meticulously manicured lawn with the mix of crisp white vinca flowers and leafy green hostas and yuccas. They have put so much thought into the curb appeal of their property, which adds such a eye-catching addition to Miller Avenue!
July 2018 Yard of the Month - We awarded July Yard of th Month to Laura and Chris Hawk at 2825 NW 43rd! We love colorful front flower bed and the array of potted plants and succulents!!
May 2018 Yard of the Month - 2816 NW 47th! We love the array of colorful flowers and beds along with the bright pops of color in the bird bath and seating area.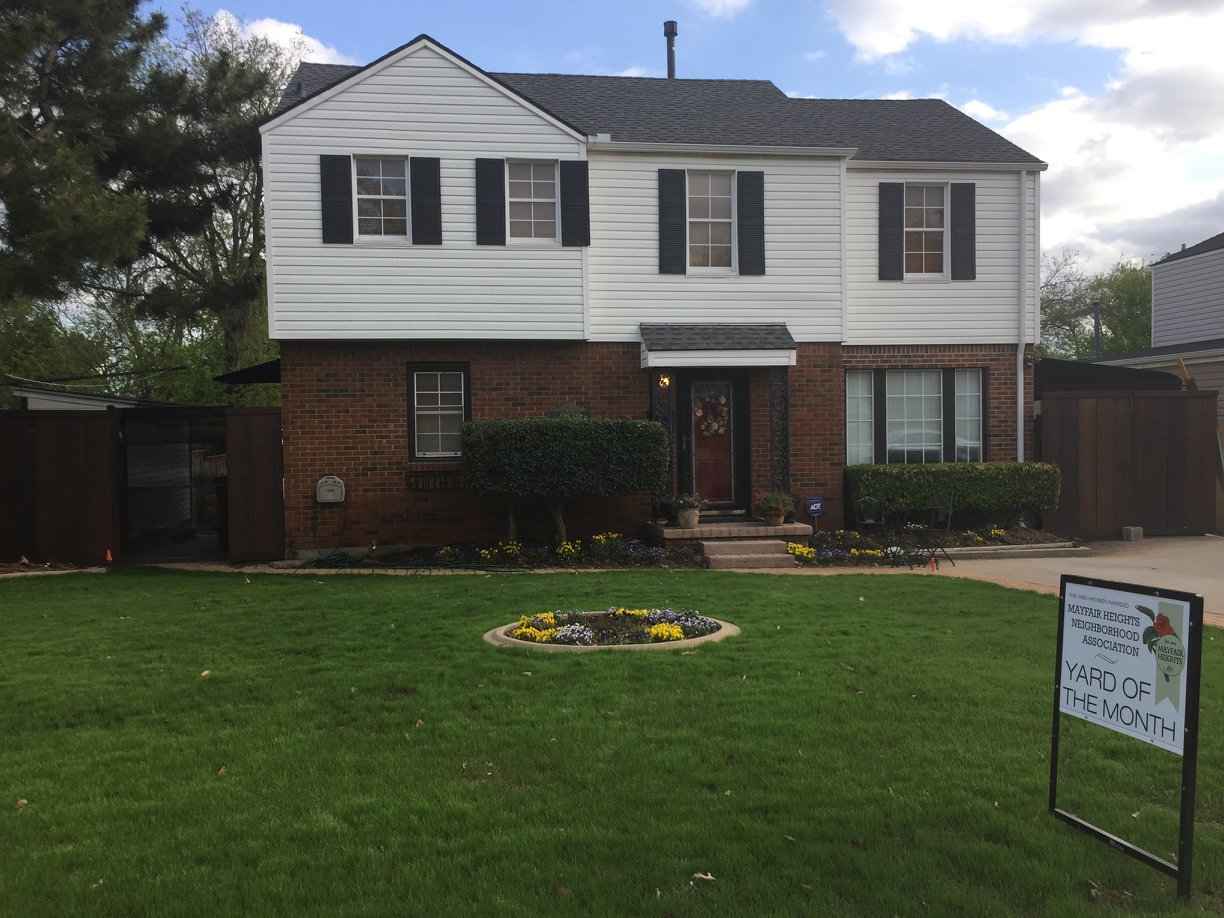 We chose our April YOTM Winner and it is The Dorr family at 2820 NW 43rd St. We love the circular flower bed, the nicely trimmed hedges, and array of hanging baskets. Nice work, Dorr Family.
December 2017's Yards of the Month
November 2017's Yard of the Month - Scott Cole of 4500 Mayfair Drive.
His yard looks terrific all year around, even at this time of year! We love the cacti and the pampas grass, and the Grandmothers Poinsettia adds striking color to the border bed.